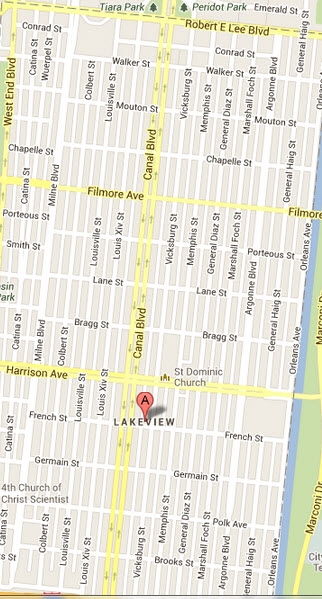 Until the early 20th century, the Lakeview Community was largely undeveloped swamp. However, the New Basin Canal had been cut through the area in the early 19th century leaving room for development to begin.
Major progress began after World War II and the area seeing mostly construction of bungalow-type homes.
In 2005, Hurricane Katrina breached a portion of the floodwall along the 17th Street Canal flooding innundating much of the neighborhood with water within minutes.
In 2007 steady progress was being made to rebuild this wonderful community and many large, upscale homes are presently being constructed where smaller bungalows once lay.
The City Planning Commission defines the boundaries of Lakeview as these streets: Robert E. Lee Boulevard, Orleans Avenue, Florida Boulevard, Canal Boulevard and I-610 and Pontchartrain Boulevard.